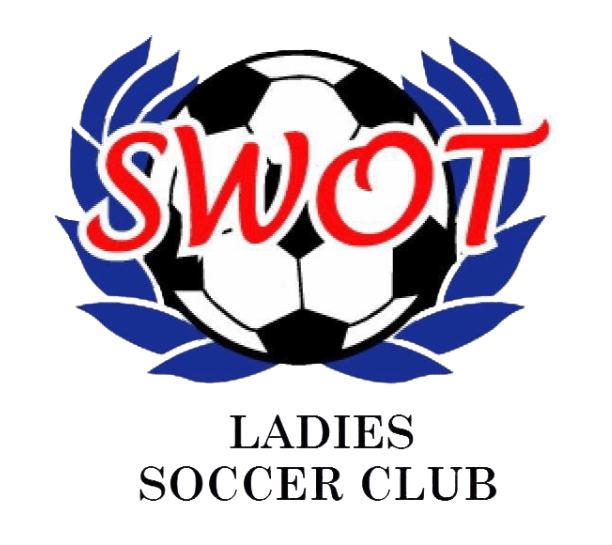 In 1999, Ronda Evans was on the ASC (Ajax Soccer Club) Board and enjoying the opportunity to watch her teenagers and husband play soccer, it occurred to her that she was the only one in her family not playing. Immediately she saw this as a social justice issue needing a remedy.
So, she hounded the board incessantly about starting a recreational women's program until they finally agreed in 2000. She also needed to find registrants to form the league and other Superstar Women to help run the league. Big tasks were ahead!
She formed a committee to help her get the league organized and they didn't look back. They decided; The name of the league would be SWOT – Superstar Women Over Thirty … because we figured we were all superstars just for showing up!
Since the beginning, Sunday mornings were the only time available to rent due to shortage of fields. SWOT continues to take advantage of this opportunity, and as such, the anticipation of SWOT Sunday mornings brings us together week after week.
When SWOT was first started, three main points were, and still are, the pillars of our league:
Run it like a house league.
Balance teams every year.
Focus on recreation and camaraderie.
Very humble beginnings and it still warms Ronda's heart to see how SWOT has evolved, the friendships that have been formed, the community spirit we've all developed, and our contributions to the community. All of the foundational elements are still in place today.
Team balancing is the foundation of our league. You join as an individual and teams are formed based on an even distribution of players based on their skills and position. Balancing is accomplished through player self-ratings and independent ratings conducted during the previous season.
Teams are established using a draw of players within each of the five rating categories. So you may not necessarily be playing with your friend, neighbour, co-worker, or sister, but SWOT will attempt to accommodate such requests so long as team balancing is not compromised. Check the "Matched Special Request" policy on the registration form for more details.
As teams are formed every year, it is quite possible that over the years, you will get to know your opponents quite well too, and that creates a very positive, relaxed soccer environment. Each season ends with an award ceremony and dance.
The SWOT program is a recreational venue providing an easy-going, fun environment, while at the same time giving those muscles a good workout. If you are looking for an aggressive, must-win soccer venue, then you need to keep searching for an appropriate program suitable to your competitive needs.
Soccer brings us together, but SWOT is not only about soccer. SWOT is also about building long term friendships, give women time for themselves and provides an opportunity to integrate and/or contribute with our community. We organize fundraising soccer tournaments and other events like boot camps, dinners, etc.
One thing Ronda wants us all to remember is that "YOU are SWOT".  So make the most of it for as long as your legs permit, recommend it to friends, family, coworkers, and keep the spirit of this club going for the generations of SWOT players to come.